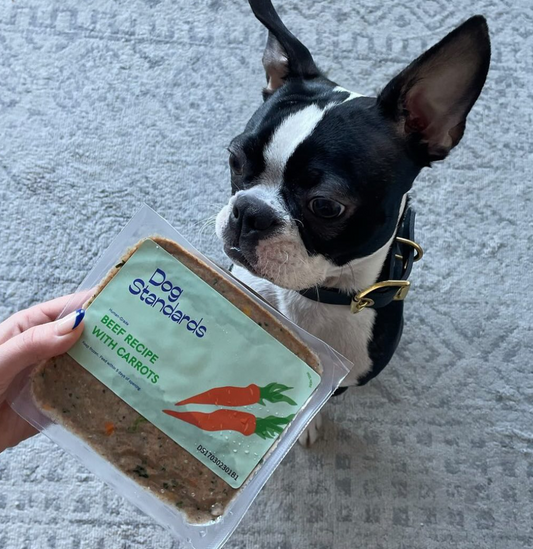 Loved by Canadian pet parents 🐶
"I've tried several gently cooked dog food providers and hands down my pup loved Dog Standards the best. I had to take away the bowl to stop him from licking every last piece out.
For me, I like the convenience of the packages being pre-measured, no partial packages in the fridge or a scale to know how much to feed. I also appreciate that pet nutritional needs were taken into consideration when developing the meals."
- Henry's pawrent
1. Your Pup's Profile

Our quiz allows us to create a customized meal plan for your dog based on their age, weight and activity level, which has been designed by veterinary nutritionists.

2. Get Your Trial Box

We'll send you the first two weeks of freshly prepared food and the tools to get started. If your dog doesn't love it, we'll fully refund your trial box.

3. Delivered to Your Door

Receive reliable deliveries of your pup's food right to your door. Easily change or cancel your subscription at any time free of charge.
Choose from Three Fresh Recipes
Each of our recipes are complete and balanced — formulated by veterinary nutritionists for All Life Stages, from puppyhood to the senior years. Made with strictly human-grade ingredients that you can see, because our dog's deserve a safe diet.
Turkey & Pumpkin

Our turkey recipe is packed with powerhouse ingredients like pumpkin, which is perfect for sensitive stomachs. Serve up the essence of a Thanksgiving feast for your dog's next meal.

Beef & Carrot

For the red meat lover in your life, we formulated a recipe packed with generous helpings of high-quality beef complemented by nutrient-rich vegetables, seeds, and oils.

Chicken & Sweet Potato

Our grain-free recipe is perfect for pup's that are sensitive to grains. Our chicken recipe is packed with nutritious ingredients like sweet potato, broccoli and coconut oil.