When you use code SOS at checkout Dog Standards will donate $50 to Save Our Scruff and you'll get 70% off your first order!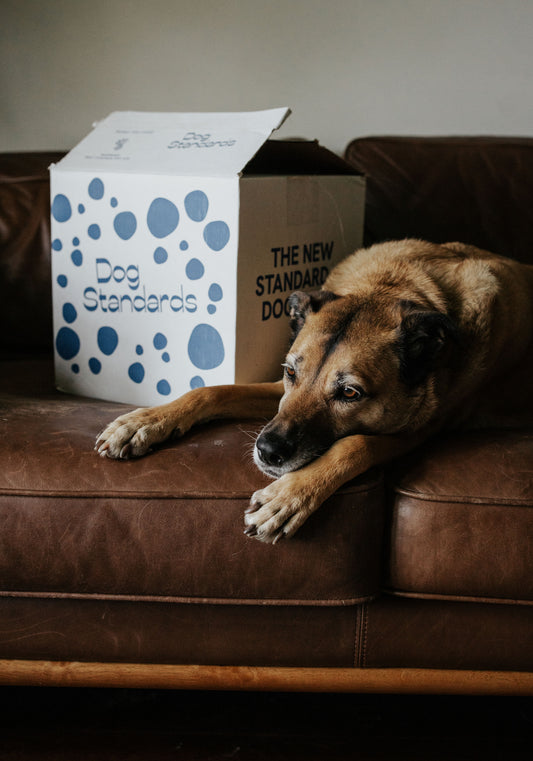 A message from Save Our Scruff:
"Save Our Scruff is dedicated to the care and rehabilitation of stray, abandoned or displaced dogs, and to preventing canine overpopulation to slow the cycle of abandonment and neglect. We are so grateful to be the recipient of the funds raised through this give-back program with Dog Standards, which will support costs associated with our spay and neuter clinics, to help us achieve our goal of completing 2x spay/neuter surgeries for every dog we take into our rescue this year. These funds will be critical in enabling our work to slow the cycle of dog overpopulation within the communities we support. Thank you!"
A Fresh Approach to Dog Food
Our 100% human-grade recipes are complete and balanced — formulated by veterinary nutritionists for All Life Stages, from puppyhood to the senior years. Made with ingredients that you can see, because our dog's deserve a safe diet.
Turkey & Pumpkin

Our turkey recipe is packed with powerhouse ingredients like pumpkin, which is perfect for sensitive stomachs. Serve up the essence of a Thanksgiving feast for your dog's next meal.

Beef & Carrot

For the red meat lover in your life, we formulated a recipe packed with generous helpings of high-quality beef complemented by nutrient-rich vegetables, seeds, and oils.

Chicken & Sweet Potato

Our grain-free recipe is perfect for pup's that are sensitive to grains. Our chicken recipe is packed with nutritious ingredients like sweet potato, broccoli and coconut oil.
1. Your Pup's Profile

Our quiz allows us to create a customized meal plan for your dog based on their age, weight and activity level, which has been designed by veterinary nutritionists.

2. Get Your Trial Box

To start, you'll get 70% off a trial box with two weeks of fresh food – perfect for your pup to get a taste.

3. Delivered to Your Door

Receive reliable deliveries of your pup's food right to your door. Easily change or cancel your subscription at any time free of charge.
Heard Around the Dog Park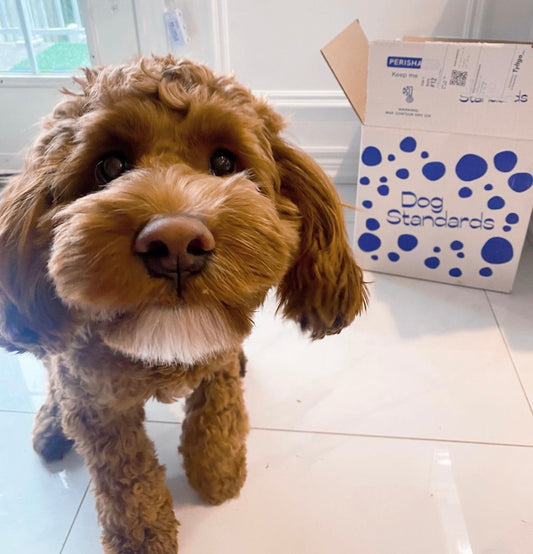 "I have THE dog on planet earth. I've tried raw, kibble, wet, air dried dog food - I have had to sit down next to my dog for 30 mins every day for the past 4 months convincing him to eat his breakfast/dinner. We started my 9 month old puppy on Dog Standards and WOW…. He LOVES this food, no hesitation. He sits next to me and waits for me to prepare it in his bowl, no vomiting, no diarrhea - it is working so well with him.
I love that it is fresh food and not processed, I love that it is made close to home in Toronto. Amazing! I am going to recommend this to all of my friends with fur babies. 1000/10."
- Hugo's pawrent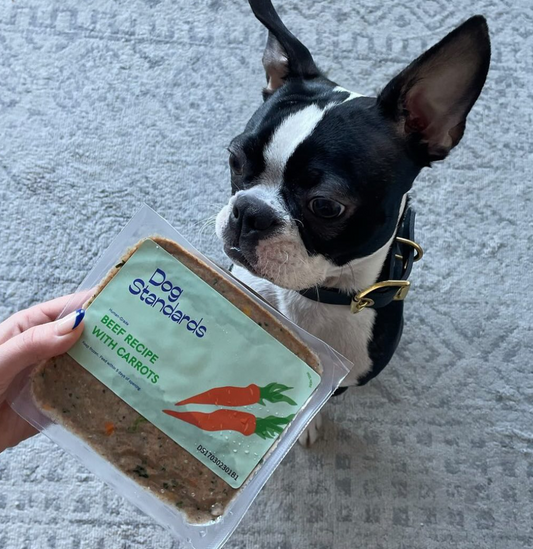 "I've been a customer for a while now and have made several changes to my orders while we figured out which recipe my picky boy preferred and how much he would eat. Each time the Dog Standards staff was super friendly and helpful and always accommodated my requests. The food looks and smells great and Jasper gobbles it up!
I've tried just about every brand out there and Dog Standards is superior by far. Great product from a great company."
- Jasper's pawrent
Please use code SOS at checkout to get 70% off your dog's meal plan! 🐶
Frequently Asked Questions
Our Food
Q: How is Dog Standards food made?
A: Our three recipes are prepared in a human-grade kitchen located in Ontario that is CFIA and HACCP approved. This is important because these facilities are held to the same standards of human food production, meaning that the safety, quality of ingredients, and food preparation methods are of the highest caliber. After packaging, every pack runs through a metal detector and every batch is tested for common pathogens such as salmonella.
Q: Where do you source your ingredients from?
A: Every ingredient used is sourced from Canadian food suppliers and is 100% human-grade, including our high-quality vitamin and mineral supplement.
Q: What does human-grade dog food mean?
A: Simply put, our dog food is edible for humans and surpasses the standards currently present in the commercial dog food industry.

Our ingredients are sourced from human food suppliers as well as local farms, and are cooked in commercial-grade kitchens.
Commercial dog food, (aka the kibble you find at the pet store) is feed-grade, meaning that it's not safe for human consumption due to its lack of regulation and incredibly low health and safety standards. Check out our Why Fresh? page to learn more.
Q: What if my dog doesn't like the food? 
A: We offer a 30-day money-back guarantee policy on your dog's first box of food. If they don't lick their bowl clean we'll refund you, no questions asked. 
Q: Do I need to cook the food? 
A: Nope! Our food is cooked, quickly frozen, and then shipped to your door. Once the pack is defrosted, simply add to your pup's bowl and watch their tail wag. If your dog prefers warm food, simply add hot water to their bowl and mix — please don't microwave the food as this will diminish the nutrients.
Q: How do you know what food my dog needs?
A: We teamed up with top veterinary nutritionists to formulate our recipes, as well as feeding guidelines for various combinations of dogs. Through our quick questionnaire we get to know the unique needs of your pup based on your responses to important questions such as: age, weight, breed and activity level. Then, our super smart algorithm calculates exactly how many calories per day your dog requires to thrive.

We don't stop there — we encourage you to chat with our team regarding your dog's progress so we can adjust their meal plan if necessary. After all, no pup is the same, although all equally as loveable.

Q: Can my puppy eat your food?
A: Yes! Our food is formulated for All Life Stages, which includes dogs 1 month old through to the senior years. 
Q: Do I have to refrigerate the food?
A: We recommend freezing the food for storage, but all thawed packs that are ready to eat should be kept in the fridge.
Q: How long does it take to transition my dog from their old diet to Dog Standards fresh food?
A: For pups who have never tried fresh food before, we recommend a 7-day period for transition from their previous diet to Dog Standards fresh food. Keep in mind that all pups are different! Your dog might need up to 14 days to transition properly.
A good sign of needing more time to transition would be to check on their poop, if your dog is pushing softer stools, continue to feed the same portions until their poop is regulated again.
Q: What is the difference between a full meal plan and a topper plan?
A: We currently offer 2 different types of plans - Our full meal plan is recommended for pet parents who want to feed their dogs 100% fresh food. This means you will receive your dog's full daily portions with a personalized meal plan for your pup's daily caloric needs.
Our topper plan only includes 50% of your dog's daily caloric needs and pet parents are still required to include your regular pet food into their diet in addition to the topper from Dog Standards.
Packaging & Shipping
Q: Is your packaging environmentally friendly?
A: Yes, it is! The box your dog's food is shipped in, the thermal lining that keeps it cool, and the void packaging are all 100% recyclable. Our vacuum sealed food packs are also recyclable after they've been rinsed, and the sticker has been removed.
Q: What should I do after receiving my order?
A: Once the dry ice has sublimated, it's safe to handle the packs. Transfer all packs except for one day's worth of food to the freezer. Transfer that portion to the fridge to safely defrost 24 hours prior to feeding time. You'll have your dog's specific feeding instructions included in your box — ensure that you read and retain this sheet as a guide, while recycling all other shipping materials.
Q: Where do you ship to?
A: We currently ship across Ontario, BC and Québec.
Q: What if I'm not home when my box arrives?
A: Not to worry, our thermal packaging and dry ice are designed to keep your dog's food cold for far longer than when it first arrives on your doorstep.
Q: Will I receive a reminder or notification of when my delivery is coming?
A: Of course! Make sure you're subscribed to our text messages. We typically send a text notification to the number on your profile 24 hours prior to your scheduled delivery.
Q: How do I know if the food is safe when it arrives?
A: As long as the recipe packs are still frozen or cold to the touch, they should be safe to consume and refreeze again.  
Subscription
Q: What if I don't want a subscription plan? 
A: Our subscriptions are completely customizable. Only one to receive one box? Cancel your subscription as soon as you order. Out of town? You can skip as many weeks as you need. Want to receive your dog's meal plan at a custom interval? No problem, you can customize your interval down to the day. Need to hit pause on your subscription? Pause your subscription within seconds and reactivate it when you're ready.
Our subscription model allows us to create a seamless experience for you and your pup, so you never have to worry about late night trips to the pet store again or overfeeding your dog.
Q: How will I be billed for my subscription plan?
A: For your first two week starter box, you will be billed immediately. For every subsequent shipment, you'll be billed every 2 weeks from the first date of purchase.
We suggest adding help@dogstandards.ca to your email contact list to ensure that you receive all important emails associated with your shipments.
Q: What if I need to make changes to my subscription?
A: You can skip or cancel your subscription at any time by logging into to your account. If you'd like to adjust your dog's recipes, contact us at help@dogstandards.ca and we'll be happy to assist.
Q: Can I send my shipment to another address?
A: Yes, you can change your address at any time by logging into your account, as long as the address is within Ontario, BC and Québec and next-day shipping is available.
Customize your dog's meal plan